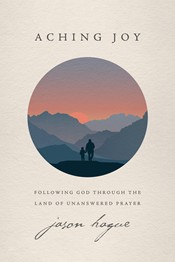 ebook available
Aching Joy
Jason Hague
When his oldest son was diagnosed with severe autism, pastor Jason Hague found himself trapped, stuck between perpetual sadness and a lower, safer kind of hope. This is the common struggle for those of us walking through the Land of Unanswered Prayer. Life doesn't look the way we expected, so we seek to protect ourselves from further disappointment.

But God has a third path for us, beyond sadness or resignation: the way of aching joy. Christ himself is with us here, beckoning us toward the treasures hidden in the darkness.

Aching Joy is an honest psalm of hope for those walking between pain and promise: the aching of a broken world and the beauty of a loving God. In this place, rather than trying to dodge the pain, we choose to feel it all—and to see where Jesus is in the midst of struggle. And because we make that choice, we feel all the good that comes with it, too.

This is Jason's story. This is your story. Come, find your joy within the aching.
.PDF Excerpt

Jason Hague
Jason Hague is an associate pastor at Christ's Center Church in western Oregon. He chronicles his personal journey online at JasonHague.com, where he uses prose, poetry, and video to share his experiences as a father to a severely autistic boy. Jason has been married to Sara for seventeen years, ...
Read Full Bio