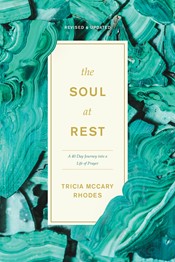 ebook available
The Soul at Rest
Tricia McCary Rhodes
Many Christians today struggle with having a consistent or life-giving quiet time. They are looking for a form of prayer that doesn't make them feel like they're begging God or being judged by him. The Soul at Rest is a quiet time companion that introduces "inward disciplines" from throughout Christian history to those who hunger for greater intimacy with God.

The Soul at Rest is a 40-day guided experience of prayer that puts readers in the presence of God and allows them to enter and enjoy his rest. It guides readers into a rhythm of quiet, contemplative prayer, easing them into God's presence and demonstrating how prayer is not so much a duty as it is a gift. By the time someone finishes The Soul at Rest, they'll not only understand prayer better; they'll be engaging in it as a regular rhythm of life.
.PDF Excerpt

Tricia McCary Rhodes
Tricia McCary Rhodes has served in ministry for over 35 years and is the author of several books, including Sacred Chaos, The Wired Soul and Contemplating the Cross. She and her husband founded New Hope Church in San Diego. She is currently an adjunct professor of practical theology at Fuller Sem...
Read Full Bio