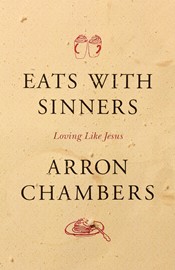 ebook available
Eats with Sinners
Arron Chambers
If you want to follow Jesus on the incredible journey of sharing Him while sharing life with others, it's time to eat with sinners—people just like you . . . and me.

As long as people have been sharing their faith, there have been critics. Even Jesus dealt with naysayers as He spread His gospel: "This man welcomes sinners and eats with them" (Luke 15:2, NIV). Sometimes we worry about our reputation when we spend time with non-Christians. But more than that, we worry about the time we spend with non-Christians: Will we understand each other? Will I offend them? Will they offend me? How long will it take before this relationship falls apart?

Every meal Jesus ate, He ate with sinners. And over food and drink, through stories and insights and observations and conversations, people let their guards down, and sinners came to know the love of God and the hope of salvation. Now revised and updated, Eats with Sinners helps you to let your guard down so the love of God can get out across the table to your non-Christian friends.

Note: This book was originally published by Standard Publishing in November 2009 (ISBN 0784723184). The NavPress version does not include recipes!
.PDF Excerpt

Arron Chambers
Arron Chambers is the lead minister of Journey Christian Church in Greeley, Colorado. He is a contributing editor for Christian Standard, a coach, an inspirational speaker to thousands of people each year, the husband of a lovely wife, and the father of four beautiful kids.
Read Full Bio