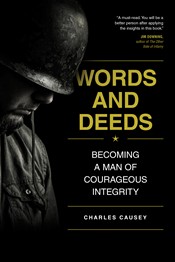 ebook available
Words and Deeds
Charles Causey
We know intuitively, deep in our bones, that the best life is a life where our words and our deeds count for something greater than ourselves. Our hearts quicken when we hear a rousing call to action, when we see someone taking a hill that must be taken. We know that doing and saying nothing is beneath us—that our words and deeds can be the best things about us.

Words and Deeds is an integrity-pulse check packed with inspiring war stories. It offers a way of gauging the strength of our integrity and a path toward growing in courage. There is a unique diagnostic assessment for men to take and see how they are utilizing both words and deeds as instruments of their character.

As you learn to align your words and deeds, you will be inspired and empowered to get off the couch and live a life of significance.

Special features:
40-question diagnostic assessment tool (in the book and online) for measuring and growing in integrity
6-week small group Bible study
.PDF Excerpt
Charles Causey
Charles Causey is a recipient of the Bronze Star for his military service in Iraq. He is the author of several books, including Unbreakable: Forging a Marriage of Contentment and Delight. Formerly serving at the Pentagon as a senior army chaplain for the Chief of Chaplains, he is current...
Read Full Bio