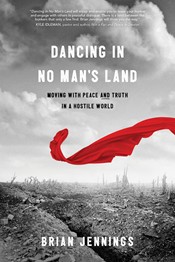 ebook available
Dancing in No Manís Land
Brian Jennings
Are you tired of the conflict all around you?

It happens over and over again. A political argument with a friend, a fight about racial issues on the internet, a disagreement with a coworker—at the first sign of conflict, we flee to a bunker with people who think like us and attack everyone else. We feel safe there, but it's killing us: killing families, friendships, civility, and discourse.

Our fractured world desperately needs a different way: people who will speak gently, value truth, and think clearly. Dancing in No Man's Land is a rallying cry, a life-giving and practical journey into the way of Jesus that will revolutionize how you view conflict. You can choose to speak both truth and peace in the midst of war. You can step out of our bunkers and into no-man's land, where only brave souls tread. It may look like you're dodging cultural landmines. But you might just be learning how to dance.
.PDF Excerpt

Brian Jennings
Brian Jennings is the Lead Minister of Highland Park Christian Church in Tulsa, Oklahoma. He loves his wife of seventeen years, Beth, as well as his two boys and two girls. Over the past seven years, Brian experienced a significant job transition, adopted a girl from Ethiopia, welcomed another in...
Read Full Bio