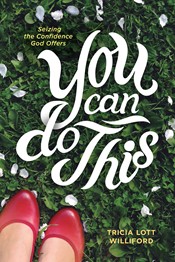 ebook available
You Can Do This
Tricia Lott Williford
Our culture as a whole, and often the Christian culture in particular, discourages confidence in women. Tricia Lott Williford explores how confidence and self-awareness can be a path toward stronger and richer faith. She offers stories and strategies to inspire and lead women to develop the confidence to stand firm in the face of the blows, losses, and disappointments in life.

Readers of this book will think, laugh, and gain confidence to do what is set before them. They will feel hopeful, courageous, strengthened, encouraged, present, and confident. And finally, readers will be equipped to implement simple strategies to inspire contagious confidence in themselves and others.
.PDF Excerpt
Tricia Lott Williford
Tricia Lott Williford is a remarried widow, author of three books, writer, teacher, reader, and thinker. Thousands of people join her each morning for a cup of coffee as they sign online to read today's funny, poignant stories that capture the fleeting moments of life. Tricia lives near Denver,...
Read Full Bio