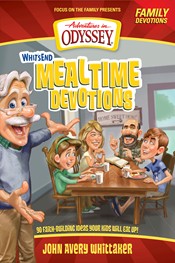 Whit's End Mealtime Devotions
Crystal Bowman, Tricia Goyer
Your family's gathered around the table. What's on the menu? Cold stares? Stale prayers? The same old leftover questions about "what happened at school today"? Next time you sit down to eat, enjoy some spiritual food too! Get everyone talking—and learning—with the nourishment of Whit's End Mealtime Devotions! Encourage quality family time and pass on a strong spiritual heritage with these 90 devotions created to engage children in fun, lively, productive dialogue.
.PDF Excerpt
Crystal Bowman
Crystal Bowman is a former preschool teacher, award-winning author, nationa...
Read Full Bio
Tricia Goyer
Tricia Goyer is the author of over 30 books and has been published in many natio...
Read Full Bio