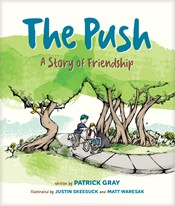 The Push
Patrick Gray
When Marcus moved next door to John, they knew instantly they'd be friends. Now John and Marcus do almost everything together. They go on lots of adventures, with Marcus pushing John's wheelchair and John fueling their escapades with jokes. Through their friendship, the boys discover that their unique gifts make them stronger together.

Based on the friendship of real-life best friends Patrick Gray and Justin Skeesuck, The Push teaches kids that people of all abilities have important roles to play and that we're all better together than we are on our own.

Patrick Gray
Born in the same small town just a few days apart, Justin Skeesuck and Patrick Gray have been blessed with a unique relationship. Their childhood adventures and shared interests make for many moments of laughter, joy, and shared memories. At fifteen years of age, a car accident triggered a dorman...
Read Full Bio