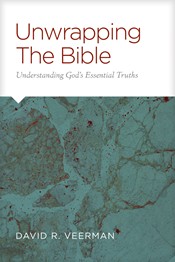 Unwrapping the Bible
David R. Veerman
With Unwrapping the Bible, you'll understand, in a fun and engaging way, seven essential teachings of the Bible that form the core of the Christian faith.

This convenient guide to the teachings of the Bible begins with who God is. Then it explores what the Bible says about Jesus Christ and us, how we can be saved, and how we can grow in holiness and follow God's way. The book ends with an explanation of what the church is and its ongoing mission in this world.

By understanding these seven core beliefs and following Jesus Christ wholeheartedly, you can anchor your life to the truth of God's Word. The storms of this world won't be able to unmoor you from the truth.

Ground yourself in God's Word. Find yourself in God's Story. Walk with confidence in God's way.
.PDF Excerpt

David R. Veerman
Dave Veerman is the author of more than sixty books, including Tough Parents of Tough Times, When Your Father Dies, and Letting Them Go, and he was a senior editor of the Life Application Study Bible. Dave is co-owner of The Livingstone Corporation, a company that s...
Read Full Bio