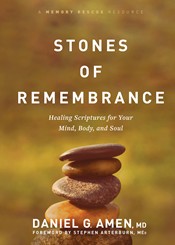 Stones of Remembrance
Dr. Daniel G. Amen
This inspirational companion to Memory Rescue, Dr. Daniel Amen's groundbreaking book, is an invitation to discover the healing power of Scripture meditation and memorization as an intentional spiritual discipline.

There is a reason the Bible calls us over and over again to "remember." Remembering God's acts, promises, and guidelines for living is essential to a healthy spiritual life. And as part of regular spiritual practices such as Scripture meditation and memorization, it can contribute to a healthier mind and body as well—reducing stress, increasing brain capacity, and even helping to reverse problems like memory loss.

Stones of Remembrance includes:
Key Scriptures to memorize and meditate on so they'll always be with you when you need to be inspired, challenged, or comforted
An introduction to the biblical and biological basis for "remembrance" as a healthy life habit
Tips for incorporating Scripture meditation and memorization into your life and increasing your memory capacity
Whether purchased as a gift or as a practical spiritual follow-up to
Memory Rescue
,
Stones of Remembrance
is a wonderful resource to help cultivate the healing power of God-focused remembering.
.PDF Excerpt

Dr. Daniel G. Amen
Daniel Amen is a Christian and graduate of Oral Roberts University School of Medicine. Amen is a double board-certified psychiatrist, multiple NY Times bestselling author, and founder of Amen Clinics. Dr. Amen's research team has published more than 70 scientific articles on a wide variety of top...
Read Full Bio