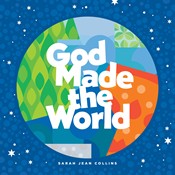 God Made the World
Sarah Jean Collins
Who made the sun, the stars, the moon, and the animals? God did! And who made me? God did! God made the entire world! Author and artist Sarah Collins brings a fresh approach to her illustrations using geometric designs to create bright, beautiful, and exiting pictures that preschoolers will want to look at over and over again.

God Made the World board book tells the story of creation in simple, easy to remember rhymes with art that is engaging and fun for young children. And it is sure to become a classic introductory creation storybook that will be used by countless families and teachers.
.PDF Excerpt
Sarah Jean Collins
Sarah Jean Collins is an artist and graphic designer from Bradenton, Florida. She graduated from Samford University in 2008 with a BA in history. Three years later, she decided to go back to school to pursue her lifelong love of art by obtaining an AS degree in graphic design from State College o...
Read Full Bio