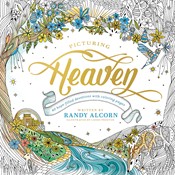 Picturing Heaven
Randy Alcorn
Imagine Heaven the way the Bible describes it—a place of exquisite beauty brimming with marvelous detail and intricate patterns; a special dwelling place free of corruption and sin; and a place of both rest and enjoyable, meaningful work.

Let the power and majesty of Heaven fill your heart with joy as you color these 40 designs carefully interpreted from the pages of Scripture. Savor a respite from daily life as you read and meditate on devotions from best–selling author Randy Alcorn, a leading authority on Heaven. Picturing Heaven will offer you comfort and relaxation, while filling your heart with restful assurance that God prepares a special place for those who love Him.
.PDF Excerpt
Randy Alcorn
RANDY ALCORN is an author and the founder and director of Eternal Perspective Ministries (EPM), a nonprofit organization dedicated to teaching principles of God's Word and assisting the church in ministering to unreached, unfed, unborn, uneducated, unreconciled, and unsupported p...
Read Full Bio