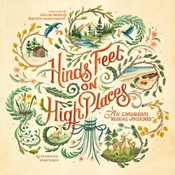 ebook available
Hinds' Feet on High Places
Hannah Hurnard
Journey with Much-Afraid to new heights of love, joy, and victory!
For the first time, this beloved Christian allegory is a mixed-media special edition complete with charming watercolor paintings, antique tinted photography, meditative hand-lettered Scripture, journaling and doodling space, and designs to color. As you read and connect with the story of Much-Afraid and her trials, the pages of this book become a canvas on which to chronicle your own story, struggles, and personal triumphs.

Hinds' Feet on High Places, with more than 2,000,000 copies sold, is a story of endurance, persistence, and reliance on God. This book has inspired millions of people to become sure-footed in their faith even when facing the rockiest of life's terrain. The story of Much-Afraid is based on Psalm 18:33: "He makes me as surefooted as a deer, enabling me to stand on mountain heights."

The complete Hinds' Feet story is accented by 80 full-color paintings, photography, and hand-lettered Scripture.
.PDF Excerpt
Hannah Hurnard
Hannah Hurnard was born in 1905 in Colchester, England, to Quaker parents. She graduated from Ridgelands Bible College of Great Britain and spent four years training with an interdenominational faith mission and doing evangelistic work in England and Ireland. In 1932 she became an independent mis...
Read Full Bio