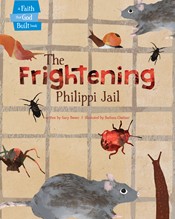 The Frightening Philippi Jail
Gary Bower
The Faith that God Built series by Gary Bower uses the same whimsical style of storytelling as The House that Jack Built, using rhyme to introduce preschoolers through second graders to favorite Bible stories. Gary has a well-developed talent for creating engaging narratives that also teach biblical truths through rhyme.

In The Frightening Philippi Jail, Paul and Silas praise the Lord in a difficult and unfair situation.

Gary Bower
Gary Bower is an award-winning author, speaker, and ordained minister. His many years of experience pastoring small children, tweens, teens, and adults have helped him develop a rare ability to touch hearts of a wide age range simultaneously. He is author of 16 books, in...
Read Full Bio