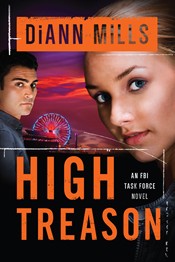 ebook available
High Treason
DiAnn Mills
When Saudi Prince Omar bin Talal visits Houston to seek cancer treatment for his mother, an attempt on his life puts all agencies on high alert. FBI Special Agent Kord Davidson is the lead on the prince's protective detail because of their long-standing friendship, but he's surprised—and none too happy—when the CIA brings one of their operatives, Monica Alden, in on the task force after the assassination attempt.

Kord and Monica must quickly put aside interagency squabbles, however, when they learn the prince has additional motives for his visit—plans to promote stronger ties with the US and encourage economic growth and westernization in his own country. Plans that could easily incite a number of suspects both in the US and in countries hostile to Saudi Arabia. Worse yet, the would-be assassin always seems to be one step ahead of them, implicating someone close to the prince—or the investigation. But who would be willing to commit high treason, and can Kord and Monica stop them in time?
.PDF Excerpt
DiAnn Mills
DiAnn Mills is a bestselling author who believes her readers should expect an adventure. She combines unforgettable characters with unpredictable plots to create action-packed, suspense-filled novels. Her titles have appeared on the CBA and ECPA bestseller lists; won two Christy Awards; and bee...
Read Full Bio