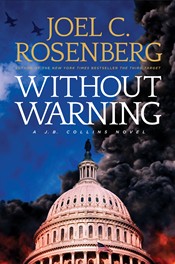 ebook available
Without Warning
Joel C. Rosenberg
2017 Christy Award finalist (Mystery/Suspense/Thriller category)
As he prepares to deliver the State of the Union address, the president of the United States is convinced the Islamic State is on the run, about to be crushed by American forces once and for all. But New York Times foreign correspondent J. B. Collins tells the president he's dead wrong. With the Middle East on fire, the Israeli prime minister dead, and Amman in ruins, Collins fears a catastrophic attack inside the American homeland is imminent. He argues that only an all-out manhunt to capture or kill Abu Kahlif—the leader of ISIS—can stop the attack and save American lives. But will the president listen and take decisive action before it's too late?
.PDF Excerpt

Joel C. Rosenberg
Joel C. Rosenberg, the grandson of Orthodox Jews who escaped Czarist Russia in the early 1900s, is a New York Times best-selling author of fourteen novels and five non-fiction books with nearly five million copies in print. He has addressed audiences at the White House, Pentag...
Read Full Bio