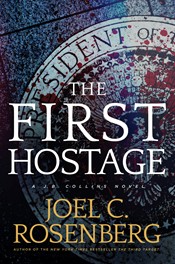 ebook available
The First Hostage
Joel C. Rosenberg
What if the Islamic State captured the most valuable hostage in history?
"The president of the United States . . . is missing." With these words, New York Times journalist J. B. Collins, reporting from the scene of a devastating attack by ISIS terrorists in Amman, Jordan, puts the entire world on high alert. The leaders of Israel and Palestine are critically injured, Jordan's king is fighting for his life, and the U.S. president is missing and presumed captured.

As the U.S. government faces a constitutional crisis and Jordan battles for its very existence, Collins must do his best to keep the world informed while working to convince the FBI that his stories are not responsible for the terror attack on the Jordanian capital. And ISIS still has chemical weapons . . .

Struggling to clear his name, Collins and the Secret Service try frantically to locate and rescue the leader of the free world before ISIS's threats become a catastrophic reality.
.PDF Excerpt

Joel C. Rosenberg
Joel C. Rosenberg, the grandson of Orthodox Jews who escaped Czarist Russia in the early 1900s, is a New York Times best-selling author of twelve novels and five non-fiction books with nearly five million copies in print. He has addressed audiences at the White House, Pentagon, U.S...
Read Full Bio