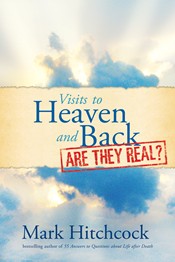 ebook available
Blog tour participation required
Visits to Heaven and Back: Are They Real?
Mark Hitchcock
What will heaven really be like?
Today's bestseller lists are filled with stories of those who have claimed to experienced heaven firsthand. Curiosity about what will happen after we die is as strong as ever in the twenty-first century. Yet, each book contains a different story about what we will experience in heaven.

What are we to believe? What is true?
In Visits to Heaven and Back: Are They Real? Mark Hitchcock, a respected Bible teacher, sorts out the facts. He chronicles the recent phenomenon of "heaven" books, comparing and contrasting the ideas presented in these books and revealing the discrepancies and contradictions. Then, Mark turns to the Bible, laying out clearly the teachings about heaven and experiences in this life of another world. The Bible does reveal that there is a world beyond this one, but it also contains clear warnings and amazing promises.

Discover today God's clear and certain promises concerning heaven.
o
How has reading this book affected your curiosity, your reassurance, and your hope about the eternal destiny that awaits us beyond this life?
o What are some manmade misconceptions about the afterlife you've encountered, which the Bible has otherwise disproved—either from hearing about others' heavenly travel memoirs, or that you, yourself, used to consider as truth, but have since then, disagreed?
o Think about where you might recall coming across stories of near-death experiences—maybe from popular media (i.e. movies, books, TV shows, magazines, etc.), or from someone you know (or from a friend-of-a-friend or a distant connection), or even from within your closest, most entrusted family and friends (or rather, possibly even from your own personal account of a time when you without-a-doubt caught a glimpse of heaven, and then had been resuscitated back to life.)
§ Did you ever feel skeptical about believing any firsthand experiences of heaven? How might these stories about life after death have convinced you or influenced your beliefs in what is really true about the existence of heaven?
-->
.PDF Excerpt
Mark Hitchcock
Mark Hitchcock was born and raised in Oklahoma City, Oklahoma. He attended Oklahoma State University and graduated from law school in 1984. After working for a judge at the Oklahoma Court of Criminal Appeals for four years, Mark was led to attend Dallas Theological Seminary, graduating in 1991. S...
Read Full Bio