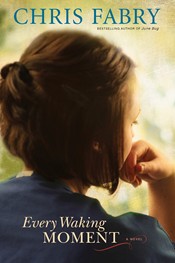 ebook available
Blog tour participation required
Every Waking Moment
Chris Fabry
A 2014 Christianity Today Award of Merit winner from the best-selling author of War Room!
Devin Hillis is a struggling documentary filmmaker who stumbles onto the story of a lifetime while interviewing subjects at an Arizona retirement home. One of the employees—a seemingly ordinary young woman named Treha Langsam—has no family and little memory of her childhood. She does, however, possess an extraordinary gift for connecting with dementia patients. Even more gripping is the story that begins to unravel when a cryptic letter from one of the home's residents reveals clues to Treha's shrouded past, setting into motion a chain of events that captures national interest.
.PDF Excerpt

Chris Fabry
Chris Fabry is an award-winning author and radio personality who hosts the daily program Chris Fabry Live on Moody Radio. He is also heard on Love Worth Finding, Building Relationships with Dr. Gary Chapman, and other radio programs. A 1982 graduate of the W. Page Pitt Scho...
Read Full Bio