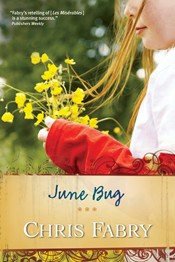 Blog tour participation required
June Bug
Chris Fabry
From the best-selling author of War Room comes a Christy Award finalist, now a Lifetime original movie called Child of Grace.
"I believed everything my daddy told me until I walked into Wal-Mart and saw my picture on a little poster . . ." For as long as she can remember, June Bug and her father have traveled the back roads of the country in their beat-up RV, spending many nights parked at Wal-Mart. One morning, as she walks past the greeter at the front of the store, her eyes are drawn to the pictures of missing children, where she is shocked to see herself. This discovery begins a quest for the truth about her father, the mother he rarely speaks about, and ultimately herself. But when her father's past catches up with them, forces beyond his control draw them back to Dogwood, West Virginia, down a winding path that will change their lives forever.
.PDF Excerpt

Chris Fabry
Chris Fabry is an award-winning author and radio personality who hosts the daily program Chris Fabry Live on Moody Radio. He is also heard on Love Worth Finding, Building Relationships with Dr. Gary Chapman, and other radio programs. A 1982 graduate of the W. Page Pitt Scho...
Read Full Bio